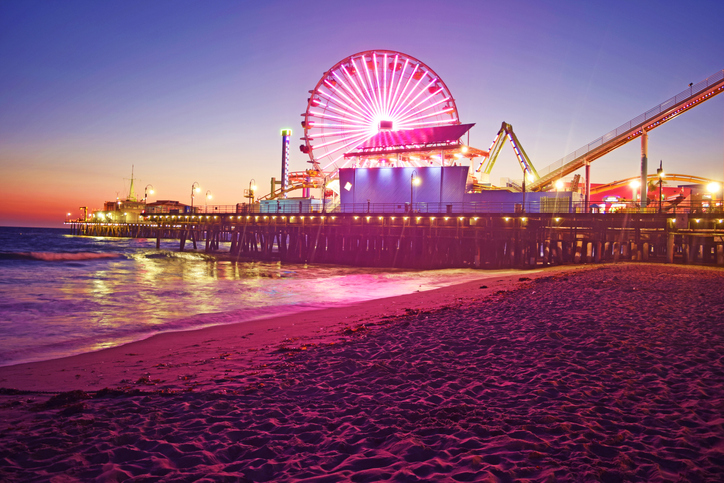 The neighborhoods that make-up West Los Angeles are the most sought after in the county, the country, and the world!
The west side of Greater Los Angeles is wedged between the Pacific Ocean and the Santa Monica Mountains, making properties here a one-of-a-kind find for city and beach views, accessibility and things to do.
With no room to expand, and populations increasing, you don't get many areas that are more of a "sure thing" as an investment than West Los Angeles.
Here's why you should choose LA's Westside for your next real estate investment.
"Chill" Ocean Views, Breezes and Vibes
West Los Angeles is home to some of the most desired properties in the world. The area's eastern borders end at the Pacific Ocean with Santa Monica and Venice Beach. The Santa Monica Mountains make-up the northern borderline, to the east is Downtown, and on the southern stretches of the area, you'll find the Los Angeles International Airport and Marina Del Rey.
The mountain and ocean features make the westside 10 – 15 degrees cooler than the valley. Residents in this area generally less into making a statement or achieving social status, they care about their quality of life and having access to the best.
Arts, Restaurants, and Culture
The arts, culture and dining options in West Los Angeles are arguably the nation's best (maybe second to New York City). Westwood Village, Wilshire Boulevard, Culver City and Venice Beach are the areas hot spots for museums, street art, and culture. The Los Angeles County Museum of Art (LACMA) in Mid-Wilshire is one of the country's largest art museums. This area is also home to many cultural communities like Little Ethiopia, Tehrangeles and Sawtelle also present opportunities to have new experiences and eat authentic foods.
There are dozens of award-winning restaurants run by James Beard and Michelin Star rated chefs. These restaurants are scattered throughout the city, but also in concentrated hubs like "Restaurant Row" and an area along Melrose Ave. north of Wilshire. Some of the destination restaurants in the area include Mori Sushi, Rosaline, Kato Resturant, E.P. & L.P., Dialogue, Lucques, Rustic Canyon, n/naka, Gjelina, and Old Lighting.
Access to Outdoor Recreation
West Los Angeles is home to dozens of parks, miles of biking and hiking trails, boardwalks, marinas, yacht clubs and more. Nearby Temescal Canyon Park, Los Leones Canyon, and Will Rodgers State Park offer hiking and equestrian trails that will have you doubting you're in Los Angeles. The Paseo Miramar Trail offers some of the best views of the coast in the city. The Riviera Golf Club and Brentwood Country Club are some of the courses offering golfers solace.
There are Wide Range of Neighborhoods to Choose From
Although West Los Angeles might seem to blend together at first glance, it's home to many extremely distinctive regions that offer something for everyone. The core neighborhoods of the westside of the city are often seen as Westwood and Brentwood. When referring to west Los Angeles county you have the areas of Mar Vista, Century City, Rancho Park, Pacific Palisades, and Palms. Depending on who you ask, Santa Monica, Culver City, Marina Del Rey, Venice, Playa Del Rey, Beverly Hills, Bel Air, and West Hollywood are considered to be part of the west side.
Ready to invest in Los Angeles? Get help from an expert with over 25 years of experience in the west side market! Click here to learn more about me!