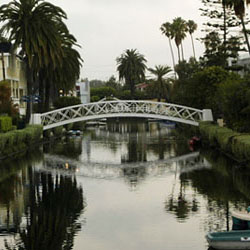 From its world famous boardwalk and beautiful beach to the shopper's paradise of Abbot Kinney Blvd., Venice offers a unique and vibrant mix of activities and attractions. Originally called "Venice of America," Venice was founded in 1905 by developer Abbot Kinney as a beachfront resort town. Kinney's initial vision of creating a cultural mecca was set aside to accommodate the public, and Venice became the "Coney Island of the Pacific," complete with an amusement pier and a miniature steam railroad. Kinney also created a system of canals and imported gondolas and gondoliers from Venice, Italy.
Today, Venice is one of the most popular destinations in Los Angeles for visitors and locals alike. From its days as home to Beat Generation poets and artists, Venice continues to be an important Los Angeles cultural center. Whether you're looking for some fun in the sun, a unique shopping experience, or a sophisticated evening of art and music, Venice is one of L.A.'s top neighborhoods.
ABBOT KINNEY BLVD.
Located a few blocks from Venice Beach, Abbot Kinney Blvd. is a vibrant collection of boutiques, salons, galleries, restaurants and bars that attracts visitors from all over L.A. and beyond. In its first-ever "Style Bible" issue, GQ Magazine named Abbot Kinney "The Coolest Block in America." That's quite a step up from its earlier condition as a rundown strip of old cottages and empty industrial buildings, when it was known as West Washington Blvd. In the late 1980s, community activists and property owners pushed for the street to be renamed after Venice's founder, an action that many consider the beginning of its renaissance.
For shopaholics Abbot Kinney is a must. The eclectic clothing shops offer everything from surf tees and beach cruisers to vintage wear and modern designers. Collectors make frequent trips to Waraku for its limited-edition imported Japanese shoes and apparel. Abbot Kinney galleries include the C.A.V.E. Gallery and G2 Gallery, an award-winning wildlife and nature photography gallery. Art Deco fans will love Bazar, while Knibb Design showcases indoor/outdoor furniture and a sustainable garden concept. Along with its spiritual books and products, Mystic Journey Bookstore hosts frequent seminars and lectures by leading authors.
VENICE CANALS
Built in 1905 by developer Abbot Kinney as part of his "Venice of America" plan, the Venice Canal Historic District is famous for its man-made canals, which evoked the canals of Venice, Italy and likewise featured gondola rides. The canals originally covered the entire area between Abbot Kinney, Pacific Ave., and Venice Blvd. Because of the growing popularity of automobiles, most of the canals were filled in 1929 to create streets like Windward Ave. and Market St. The remaining canals fell into disrepair for decades, until they reopened in 1993 after a multimillion-dollar restoration. The residential district surrounding the remaining canals was listed in the National Register of Historic Places in 1982. Many of the old houses have been renovated, while large, modern homes have also been built. Visitors can walk along the canals in the area located within South Venice Blvd., Pacific, Ocean Ave. and Washington Blvd.
Sorry we are experiencing system issues. Please try again.