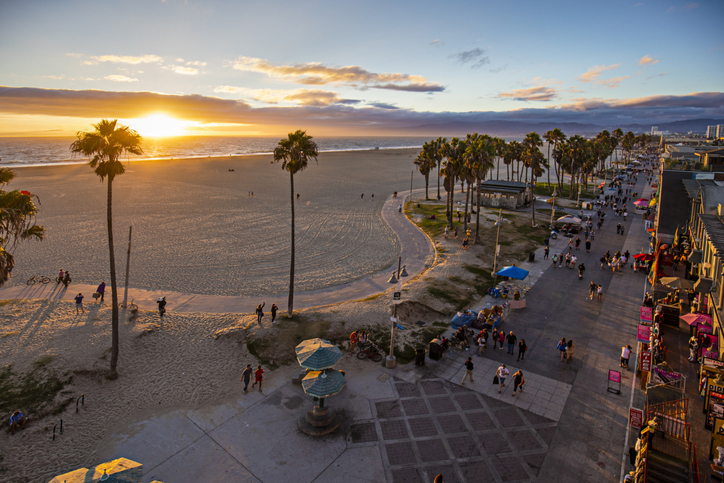 Los Angeles is 10 times the size of New York City. The two cities are often compared to one another, but the truth is, it really is like comparing apples to oranges.
Most of America's biggest metropolitan centers are usually some of the most walkable areas you'll find, anywhere. But Los Angeles is different. Its square footage makes it less walkable than most in general terms.
But it's all about knowing where to go, to know where to walk. LA is packed with small, walkable hubs. Here's our guide to a few of the city's walkable areas.
Wilshire, MacArthur Park/Westlake — Lots of History and Museums
Starting at MacArthur Park, you'll catch Instagram-worthy skyline views of downtown. Head west on Wilshire and walk along one of the city's most iconic streets that's teaming with history and opportunities to learn about the city and check out some great shops and restaurants along the way.
Along the walk, you'll see historical landmarks like Dynasty Typewriter At The Hayworth, the Bryson Tower, Lafayette Park, Wilshire Galleria, Ambassador Hotel, Wilshire Boulevard Temple and Wiltern Theatre. Once you get to the Wiltern, hop in an Uber, Lyft or take Line 720 from the Wilshire/Western Station to the Wilshire/Cloverdale Station.
Here, you'll find a strip of old fashioned buildings and as you continue west you'll be at the gateway of "Museum Row." This is the home of The La Brea Tar Pits and Museum, the Craft Contemporary museum, the Los Angeles County Museum of Art, the Academy Museum of Motion Pictures and even more museums.
Figueroa and Highland Park — So Much Food, Drinking, and Shopping
A lot of development has gone into this historic area of the city over the past few years. Along Figueroa Avenue in Highland Park, the city's history is celebrated with a chain of restored, art deco buildings. But in true Los Angeles style, the area is revamped with a modern twist.
Here you'll find cafes inspired from eras before, but serving ovo-vegetarian menus and gluten-free toast. There are communal pizzerias that cut your slice with scissors and charge by the ounce. Wine bars serve the latest biodynamic offerings and bars with speakeasy vibes play live jazz music and feature DJs.
Top by the restored Highland Park Bowl and check out the murals on the building. The Highland Park Masonic Temple and Highland Theater are other historical points of interest. Stop in one of the vintage clothing shops for everything from contemporary to funky finds.
Venice Beach Boardwalk to the Santa Monica Pier
Yes, it's touristy, but if you haven't done it yet, you must! Start at the iconic Muscle Beach and watch bodybuilders try to one-up each other. This area also has basketball courts, tennis courts, playgrounds if you're feeling active. We're not going to lie, the boardwalk attracts all walks of life, but there's really nothing else like it. Here you'll still find remnants of Los Angeles' music, surf and skate counterculture culture from the 60s and 70s, and pass by some people who might believe they're still in that era.
Once you pass the park, to your right you'll find a wall of shops and fast-casual stop-offs, and no shortage of souvenir shops with magnets, t-shirts and cheap sunglasses. To your left, you'll have endless coastal views of Venice Beach and the Pacific Ocean. You can rent a bike along the way, or stop off at the beach for a nap or just to hang out.
Have questions about life in Los Angeles? Get the help of a member of Coldwell Banker's prestigious President's Elite, an honor reserved for the top 2% of the company's sales force nationwide. Click here to get in touch!